Management of Aortic Valve Disease and Aortopathies: A Primer for Primary Care
Format: Live Video Stream from Pri-Med Canada 2019
Date: Friday, May 10, 2019
Time: 8:30 am to 9:30 am EST
Fee: Free (pre-registration is required)
This program has been certified by the College of Family Physicians of Canada and the Ontario office for up to 1 Mainpro+ credit.
Program Description:
Diseases of the aortic valve and ascending aorta remain an important cause of morbidity and mortality, particularly among, the aging population. the purpose of this presentation is to provide a primer on the diagnosis, and management options for these two important diseases with a focus on newer approaches and clinical practice guidelines.

Learning Objectives:
At the end of the lecture, participants should be able to discuss the pathophysiology, natural history and indications to intervene on aortic valve disease or ascending aortic aneurysms.
At the end of the lecture, participants should be able to discuss the various modalities available to treat aortic valve and ascending aortic aneurysms.
To understand when to refer and what complications to watch for with respect to these two conditions.
Speaker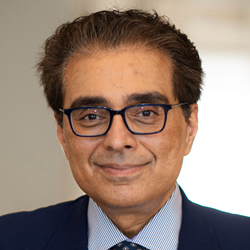 Subodh Verma, MD, PhD, FRCSC, FAHA
Dr Subodh Verma is a cardiac surgeon‐scientist at St. Michael's Hospital in Toronto, and a Professor of Surgery, Pharmacology and Toxicology at the University of Toronto. He is an internationally acclaimed clinician scientist who has published approximately 400 peer reviewed publications with over 35,000 citations to his work. He has received numerous national and international awards, including being named one of Canada's top 40 under 40 (When he was under 40), the Howard Morgan Award for distinguished research in cardiovascular medicine and being listed on the India abroad power list. He help the prestigious Canada Research Chair in Atherosclerosis for 10 years prior to be named the Canada Research Chair in Cardiovascular Surgery last year. His areas of interest include bicuspid aortic valve disease, mitral valve repair, diabetes and CV disease.